Carol Hardin awarded for Outstanding Secretary in the Pacific Northwest of Kiwanis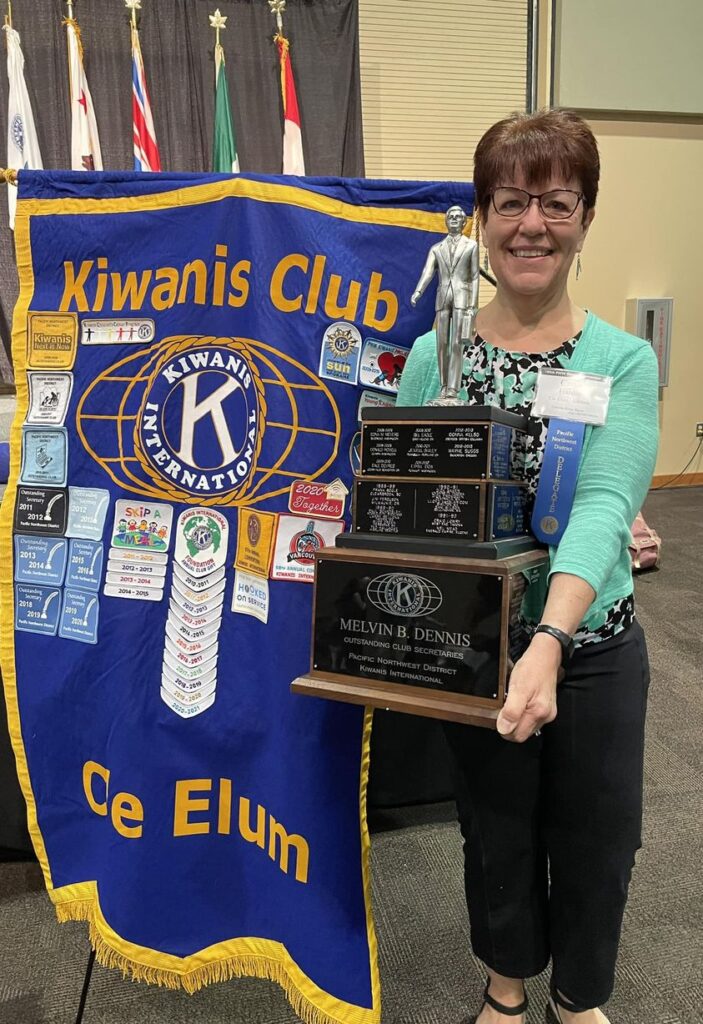 Kiwanis Club of Cle Elum is proud to announce that our very own Carol Hardin was selected to receive the Melvin B. Dennis award for Outstanding Club Secretaries for the Pacific Northwest District of Kiwanis International. The permanent trophy, presented at the District Convention, with the recipient's name engraved on it, is kept in custody at the District Office. A smaller replica is given for the secretary's personal possession.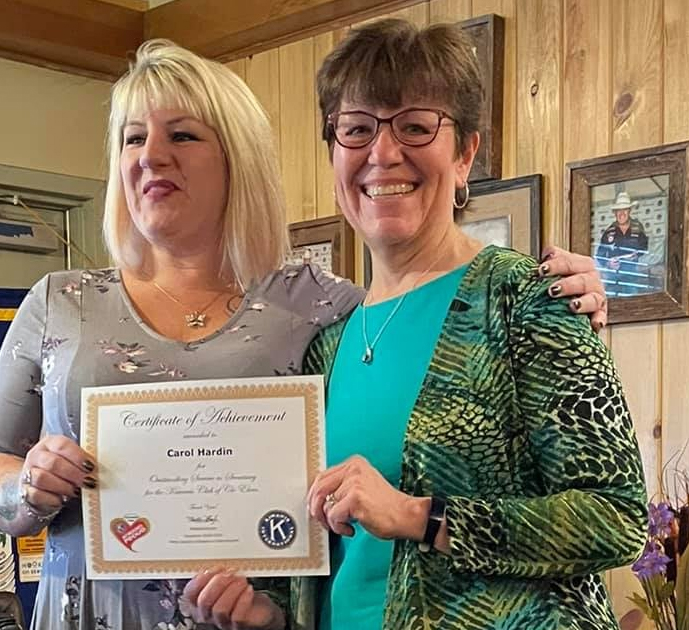 In March of 2022, Carol Hardin was presented the Club's Certificate of Achievement by former Cle Elum's Kiwanis President Dawn Bass. "Cle Elum Kiwanis has a rockstar Secretary, Carol Hardin! She is amazing in keeping us organized. She is always cheerful, kind, helpful, and encouraging … our friend, sister, and Kiwanis Secretary. But she is SO much more.
Thank you, Carol, we love you and are grateful for you each and every day!"
Eligibility:
In order to be eligible for the award, named In Memory of Melvin B. Dennis (Sept. 29, 1909 – Dec. 21, 1996), the nominee must be the club secretary for the current or most recent administrative year who exemplifies and has demonstrated a high expertise of office and the true spirit of Kiwanis. He/she must have qualified as an Outstanding Secretary. Particular attention is be given to those services beyond his/her administrative responsibilities that have made him/her Outstanding as a Club Secretary. The District maintains complete records regarding administration and the filing of reports.
Selection Criteria:
a. Attendance at: Preceding year's District Convention; Preceding year's Club Leadership Education; Preceding year's Spring / Region Conference; Not less than 70% of his/her Division's Council Meetings.
b. Must have kept accurate records of all club meetings and minutes of all board meetings. These are to be open to the scrutiny of the judges, if requested.
c. Must have qualified for the Outstanding Secretary Award in the preceding year by filing all reports indicated in that criteria by the dates shown, and have earned 540 or more points for that award.
d. Additional Considerations: Legibility and neatness of records and reports. Cooperation with Club, Division and District leaders. Assistance to President preparing Board Meeting agendas. Attendance at club meetings, projects and special events. Other administrative duties or accomplishments in Kiwanis.